f.eks.
is a roaming exhibition platform for contemporary art that seeks to generate critical and speculative dialogues between audiences, artists, and broader publics.
f.eks.
produces temporary art events that are located in and around the urban spaces of Aalborg and the Northern Jutland region – activating architecture, infrastructure, ecological sites, and public spaces through a series of live art engagements. These include performances, talks, workshops, readings, pop-ups, social installations, screenings, and many other forms of interactive and ephemeral art making.
f.eks.
is an award-winning, non-profit organization supported by the
Danish Arts Foundation,
Den Jyske Kunstfond
, Det Obelske Familiefond, Region Nordjyllands Kulturpulje, 15. Juni Fonden, Aalborg Kommune Kulturpulje,
UMMK
, Himmerland Boligforening, and Aalborg Kommunes Kunstfond as part of an ongoing artist-initiated program.
"Mindesmærke for de 743 fanger på Livø fra 1911 til 1961"
Jakob Jakobsen (DK)

Memorial for the 743 prisoners at Livø from 1911 to 1961 is a multi-layered artistic engagement by Jakob Jakobsen.

The project takes the scenic Limfjord island of Livø, with its history as a former mental institution and detention center for young men from 1911 – 1961 as an initial point of departure. Through detailed research and intimate artistic engagement with the history of the Livø mental institution - its problems, nuances, and ambiguities - Jakobsen seeks to confront and investigate the social, historical, and aesthetic relations of the lasting impact of the institution. By creating nuanced dialogues of the lives of survivors and victims, the project produces a "Monument in Paper" to the men interned there, which reflects upon the problematic and complex social and power structures these institutions (and others like it) leave behind.

Through an artistic poster collection highlighting alternative histories, co-enacting a public campaign of interactions during the exhibition period in cities near Limfjorden, and collaborating with a number of Livø actors – historians, survivors, poets, artists, and vulnerable populations – Jakobsen seeks to create critical motion and energy against policies that produce othering or reinforce institutional power in the first place. This highlights the relationships between art, mental health, and social exclusion at a critical time – just as the Danish Prime Minister is scheduled to issue a formal apology on behalf of the Danish Government to the victims of the former Livø mental institution later this autumn.

The project is generously supported by the Danish Arts Foundation, Slots- og Kulturstyrelsen, and UMMK.

Jakob Jakobsen
is an artist and writer who has been pioneering numerous forms of critical, socially-engaged, and radical pedagogical forms of artistic practice for decades. His work particularly blends political organizational work, experimental aesthetic formats, institutional critique, and collaborative ways of working. Dedicated to the production of critical consciousness and poetic language through alternative forms of collective knowledge production, he has established many highly regarded projects over the years –
The Copenhagen Free University, The Anti-History Project, Hospital Prison University Archive,
and
The Hospital for Self-Medication
to name just a few. He has exhibited, lectured, or performed in numerous international and national contexts including
Louisiana Museum of Modern Art, ARKEN Museum of Modern Art, Documenta 13 (Kassel), Liverpool Biennial 2010, Rønnebæksholm, Kunsthal Aarhus, Tensta Konsthall (Stockholm),
among many others. Also, Jakobsen has written several books on Scandinavian Situationism including
Cosmonauts of the Future
and was recently awarded a literature prize for his book
Ophør Oprør – Dagbog fra en indlæggelse
a collection of essays about his time at Gentofte Hospital.
10:30am
Ferry depart from Rønbjerg Havn to Livø
11:00am

Brief exploration

12:30pm

----- Later Ferry Departure to Livø -----

1:00pm

Island Tour with Bente Kjærgaard (nature guide on Livø)

3:00 pm

Memorial meeting and publication launch with introduction by Jakob Jakobsen and Birgit Kirkebæk
Testimonies and stories relating to Livø during the institution years and with the treatment of the socially excluded in the past or in the present.
Jakob Jakobsen (artist), Rikke Ehlers Nilsson (f.eks.), Scott William Raby (f.eks.), Mille Holtegaard (artist), Birgit Kirkebæk (researcher and historian), Henning Jahn (Andersvænge / Danmarks Forsorgshistoriske Museum), Carsten Egø (Andersvænge / Danmarks Forsorgshistoriske Museum), Maria Hagstrup (Vesthimmerlands Museum), Poul Duedahl (Aalborg University), Ib Svenningsen (Spøttrup lokal Arkiv), Anna Rieder (poet), Mikael Josephson (author), Bente Kjærgaard (nature guide on Livø), and more.
6:00pm

– Dinner and drinks –

7.00pm

----- Last Commercial Ferry to Rønbjerg Havn -----

10:00pm

Private ferry depart from Livø to Rønbjerg Havn

10:30pm

Bus from Rønbjerg Havn to Aalborg Bus station (arrival time 11:30 pm)
----- Possibility for overnight camping -----


"Hand of Inanna"
Nanna Lysholt Hansen (DK)

Hand of Inanna
by Nanna Lysholt Hansen is a performative, filmic, and dialogical artistic engagement. The project seeks to confront the interconnected pandemic, ecological, and economic crises, by utilizing imaginative and utopian strategies as initial points of departure. Lysholt Hansen is particularly interested in exploring the moods, feelings, and needs necessary for the creation of sustainable futures. Through embodying a cyborg mother goddess, the artist invokes sci-fi and speculative fiction motifs combined with vivid references such as the Sumerian poet Enheduanna and NASA recordings of the planet Venus, to meditative gestures and her own vocal presence. By positioning the body and voice as tools of resistance, via eco-feminist questions related to solidarity, care, family, and community, Lysholt Hansen asks - how can we more clearly listen and live together in times of crisis and in the future?
Identifying the need to address topics such as climate change, spirituality, healing, and a broader relationship to ecology, Lysholt Hansen's practice employs different forms and formats. The work consists of a vocal workshop, film screening, performance, and public dialogue taking place within the architecture of Aalborg's Utzon Center. The project will unfold over the course of a two-day choreography within the sweeping, lofty interior as an artistic journey into the underworld and back - to create knowledge sharing, build trust and strength, and inspire new forms of community building.
This project is generously supported by the
Danish Arts Foundation
. The video work
Dear Daughter / Sen_sing_inannainanna
(2019) is made in collaboration with artist Stathis Tsemberlidis
Nanna Lysholt Hansen
is an artist based in Copenhagen, Denmark. In her practice she investigates relationships between the body, language, gender, and technology. Using her own personal experiences of the female body, sexuality, pregnancy, birth, and motherhood, she draws attention to the body as a technological and biological intergenerational mediator of knowledge, voice, and memory. Her artwork can be experienced as live performance or as the body manifests itself through hybrid technological forms where aspects of history and narratives are challenged in relation to the gaze on the body over time. Lysholt Hansen holds a MFA degree from The Royal Danish Academy of Fine Art in Copenhagen, Denmark (2011) and a BFA degree from Kingston University, Faculty of Art, Design & Music, London, United Kingdom (2005).
"Alternative Limfjord Ecologies"
The Nomadic Platform for Eco-Economic Futures (DK/US)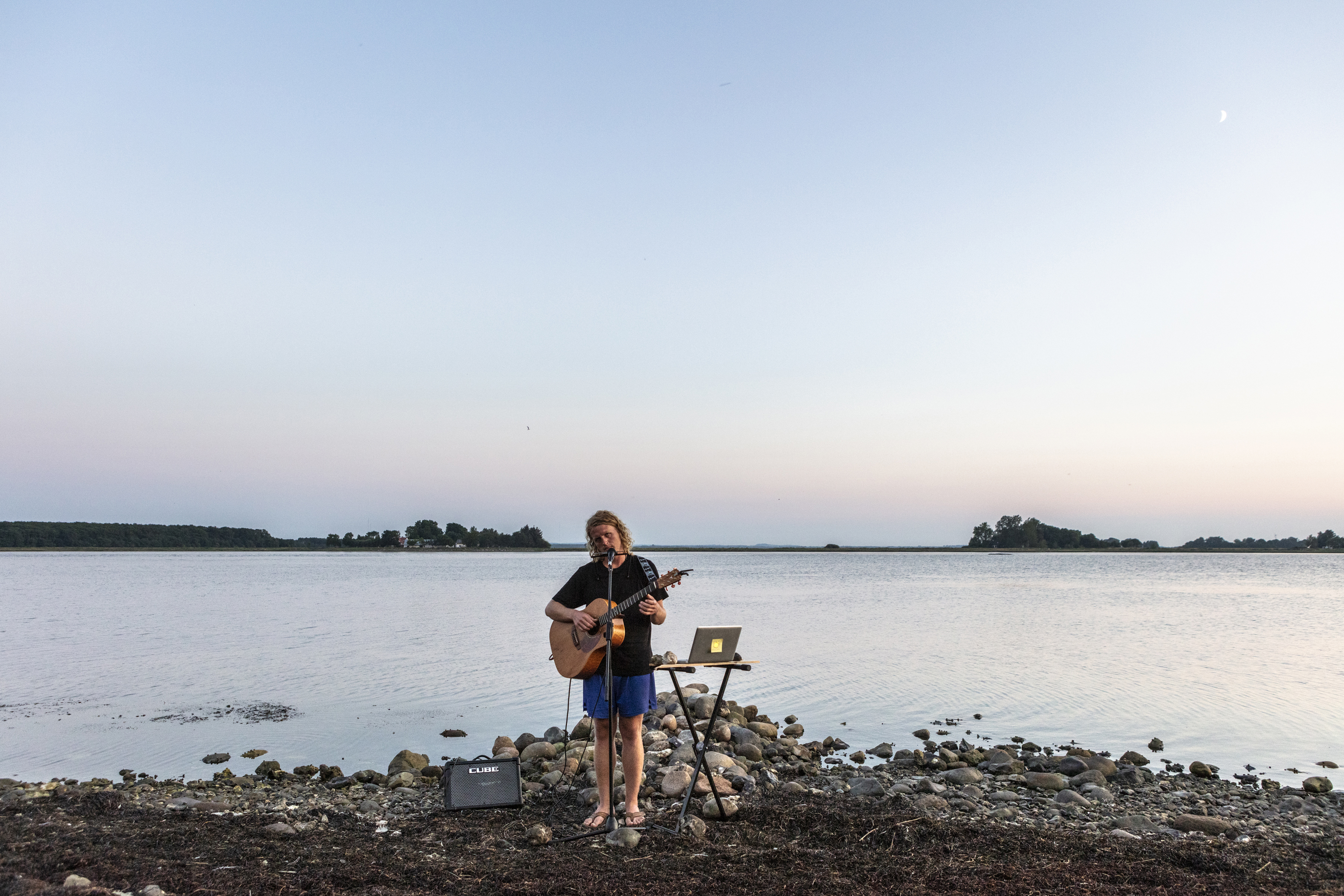 Alternative Limfjord Ecologies
is a public art project created by the
Nomadic Platform for Eco-Economic Futures
. The project consists of a series of site and context specific performances, temporary installations, and dialogues in different outdoor public spaces on the Aalborg harbor front. By activating seaside camping shelters, city overlooks, and unused boat docks, the project will reframe the natural and urban spaces of Aalborg's Limfjord to rethink socio-economic exchanges in relation to local ecology. Through reinterpreting
back to nature
motifs as seen on television, youtube, and the D.I.Y. ethos of bushcraft, vanlife, and minimal living, a critical artistic lens will be deployed to unpack these relationships as a point of departure. In doing so, broader questions about the changing relationship to ecosystems in the 21st century will be examined.
While referring to local history and culture, different scales in which nature is understood from a micro-political level of self-experience to theoretical questions related to Capitalocene dialogues will be explored. How do we interpret the spectrum of value and accessibility to an ecosystem? This can range from a deep connection, to a recreational space, or a spiritual relationship to abstraction, survival, or a site of destitution. What does this tell us about how we interact with ecological space in the context of national and global scales of planetary consumption?
Alternative Limfjord Ecologies
seeks to connect ecology, value, labor, and expanded artistic practice through collective and critical thinking to generate new interactions in relation to eco-economic connections.
This project is generously supported by
The Danish Arts Foundation
and
KulturKANten
, and made in collaboration with
Stigsborg P/S
,
Trekanten
,
Miladan
,
Hal9k
, Nordjyllands Windsurfingklub,
Lille Nyhavn Nørresundby
,
Spejdersport Aalborg
,
Greenway Denmark
, and outdoor guide
Ib Hansen
.
Friday, 26th June:
Back to Nature
Performance and Community Meal (with music by Oskar Krusell Sørensen) from 5 - 8 pm
Bejlerholm 1 (Shelter E 585 - Lindholm Fjordpark), 9400 Nørresundby

Saturday, 1st August:
Reproducing an Economy of Leisure
Performative Lecture & Workshop with bushcraft chair making from 2 - 5 pm
Skansevej (Skanseparken by the fire pits east of the Herbaceous Garden), 9400 Nørresundby

Saturday, 19th September:
Pavilion no. II
Brolandingerne, Havnegade 5, 9400 Nørresundby
*
Due to Covid-19 the events will host a maximum of 50 participants we encourage you to utilize social distancing - all activities are held outdoors, therefore please make sure to dress accordingly
The Nomadic Platform for Eco-Economic Futures
is a context specific engagement of multiple forms, formats, and iterations. Its aim is to experiment with new socio-political, imaginative, and utopian strategies in relationship to pressing interconnected ecological and economic crises. It seeks to create dialogue, action, and organization through pedagogical and discursive interactions while prototyping new engagements through collective exchange. It is initiated by Danish-American artist, organizer, and researcher
Scott William Raby
. His artistic practice engages the socio-economic and geopolitical forces that shape the dynamics between art and broader spatial, cultural, and institutional frameworks. Urbanization processes, environmental commons, judicial and financial infrastructures, micro-politics, and mass-communication systems are common sites and subjects of inquiry. His aim is to reframe and reconfigure relationships between labor, value, spatial politics, legality, and power dynamics through expanded notions of artistic practice. He has recently performed, exhibited, or presented at several art and academic institutions including
Performance Protocols
and
Kunsthal Nord
, Aalborg (DK)
c4 projects
, Copenhagen (DK),
ARGOS
, Brussels (BE),
I:projects Space
, Beijing (CN),
M_HKA
, Antwerp (BE), and
Goldsmiths
, London, (UK), among others.