"Going Public"
Clémentine Vaultier (FR), Rodrigo Ghattas-Pérez (NO/PE/PL), Katrine Dirckinck-Holmfeld (DK), Barly Tshibanda (DRC), and Nanna Katrine Hansen (DK), c4 projects (DK)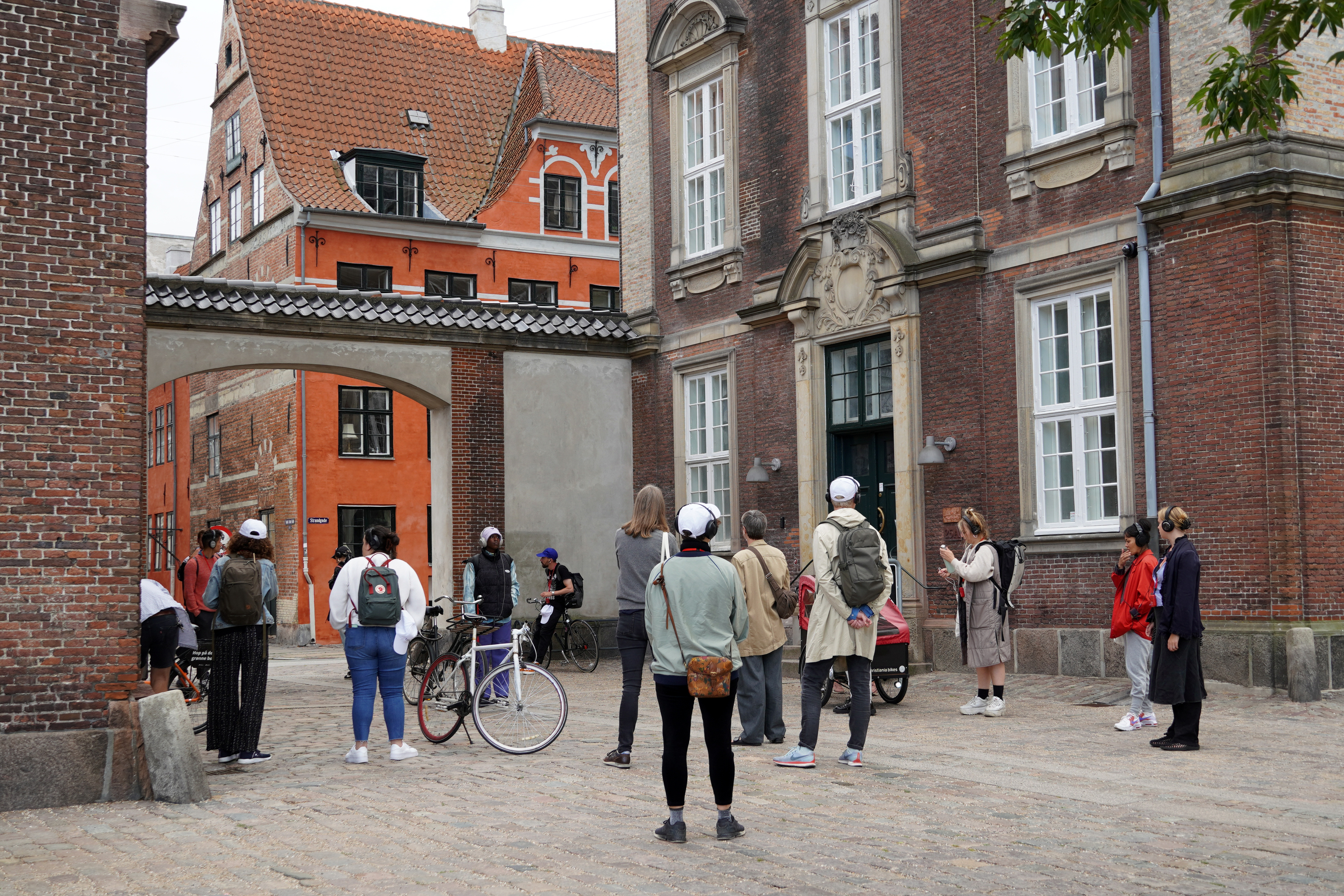 Going Public is the first iteration in a long-term exhibition series where the exhibition space c4 projects invites colleagues from other artist-run platforms and curatorial initiatives to create new experimental collaborative exhibition moments together within the framework of c4 projects. The aim is to create generative new moments of co-production allowing for greater reflection and exchange for the artists involved.

Starting in late August, f.eks. will utilize the site of c4 projects in Copenhagen to highlight different approaches to art in public space. By reframing the exhibition space as a "meeting point" or "useful infrastructure", f.eks. invites artists to engage with the surrounding urban context and broader cityscape of Copenhagen.

Through a multi-day pop-up program, the artists Clémentine Vaultier, Rodrigo Ghattas-Pérez, Katrine Dirckinck-Holmfeld, Barly Tshibanda, and Nanna Katrine Hansen will activate surrounding spaces and contexts, with different public, relational, and collaborative practices across various locations and settings. This will take shape as walks, talks, discussions, and site visits across Copenhagen. In doing so, Going Public highlights some of the unique artistic methodologies for public practice f.eks. has been prototyping with artists more broadly and in a different frame, but with the same attention to critical and experimental approaches.

The exhibition is kindly supported by The Danish Arts Council, Ny Carlsbergfondet, Beckett-Fonden, Augustinus Fonden, and Copenhagen Municipality. The graphic design is made in collaboration with artist Kamilla Mez.

Saturday, August 27th:
Summiting the Oven with Clémentine Vaultier from 5 - 8 pm

Meeting point: Copenhill, Vindmøllevej 6, 2300 København S
Ending point: c4 projects, Dybbølsgade 60, 1721 København V


Sunday, August 28th:
A.S.S. (Activist Support System) for Restivists and Artists with Rodrigo Ghattas-Pérez from 2 - 5 pm
Meeting Point: Arbejdermuseet (Workers Museum), Rømersgade 22, 1362 København K
Ending Point: Kastrup Søbad, Amager Strandvej 301, 2770 Kastrup


Monday, August 29th:
Voices in the Shadows of Monuments (Guided audio tour) with Katrine Dirckinck-Holmfeld, Barly Tshibanda, and Nanna Katrine Hansen from 5 - 8 pm

Meeting Point: Christianhavns Torv, 1410 København K
Ending Point: Kongens Nytorv, 1050 København K
Language: English with Danish, Greenlandic, Portuguese, Sanskrit, and more. Please bring mini jack headphones for the best listening experience

*The language of the events will be in English, unless otherwise noted. Events will be free of admission and drinks and snacks will be provided. Please dress accordingly for each event. No sign up is necessary.
Clémentine Vaultier (FR) is a French artist based in Brussels. Her current work is focusing on containers of warmth and heat as part of an expanded ceramic practice. Along with Maximiliaan Royakkers and Ciel Grommen, she is developing the collaborative project Atlas of Ovens, mapping different types of ovens as relational infrastructures. This allows for a broader focus on the cultural and historical connections to architecture, conviviality, community, and the social aspects that arise when gathering around fire. She is currently an artistic researcher within the Brussels-based artist collective Jubilee and is an artist in residence at f.eks. AIR in Aalborg, among others.

Rodrigo Ghattas-Pérez (NO/PE/PL) is an artist, organizer, activist and restivist based in Oslo, Norway. In his artistic work he deals with the conundrums between cooperation, economy, law, and democracy. This is manifested through self-organizational practices as well as dialogical exchanges, educational practice, artist publications, and other forms of performative exchange. At present, he is co-organizer of the projects / platforms Verdensrommet and The Union (Norway), and is currently developing a program for international artistic exchange for public housing in Peru as well as A.S.S. (Activist Support System).

Barly Tshibanda (DRC), Nanna Katrine Hansen (DK), and Katrine Dirckinck-Holmfeld (DK) are all artists based in Copenhagen. They collectively created the project Voices in the Shadows of Monuments - an audio walk that examines material traces from the colonial era embedded in the buildings and monuments within inner Copenhagen, from the time when the Port of Copenhagen was the center of Danish colonial trade. The project features artists Jupiter J. Child, La Vaughn Belle, Sabitha Söderholm, Oceana James, Arash Pandi, Julie Edel Hardenberg, and Bernard Akoi-Jackson whose collective narrative intertwines different geographies and times: past and present interweave and testify to how colonialism is not a closed chapter, but still has strong reverberations in the present.