"Alt Skal Væk"
Hannibal Andersen (DK)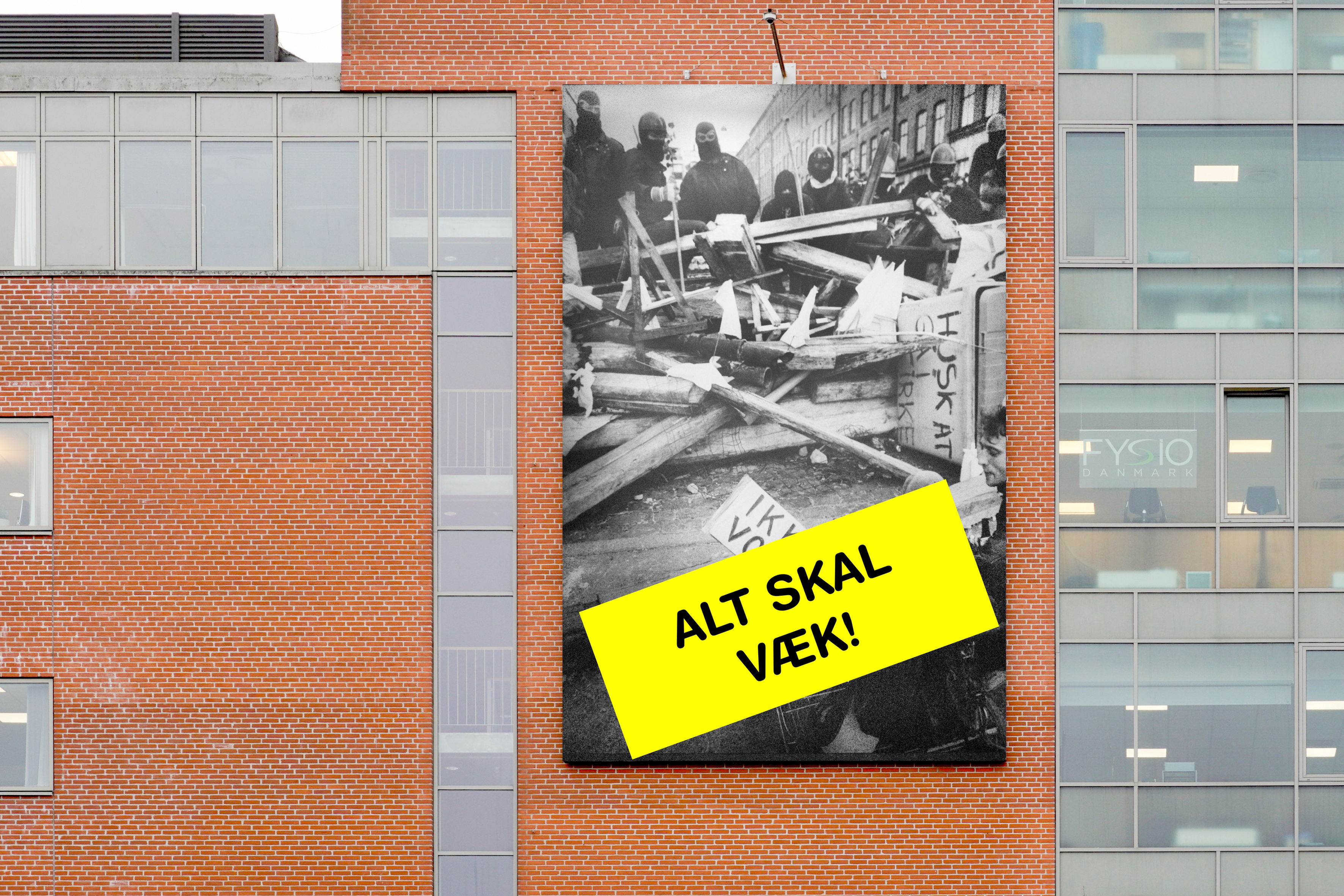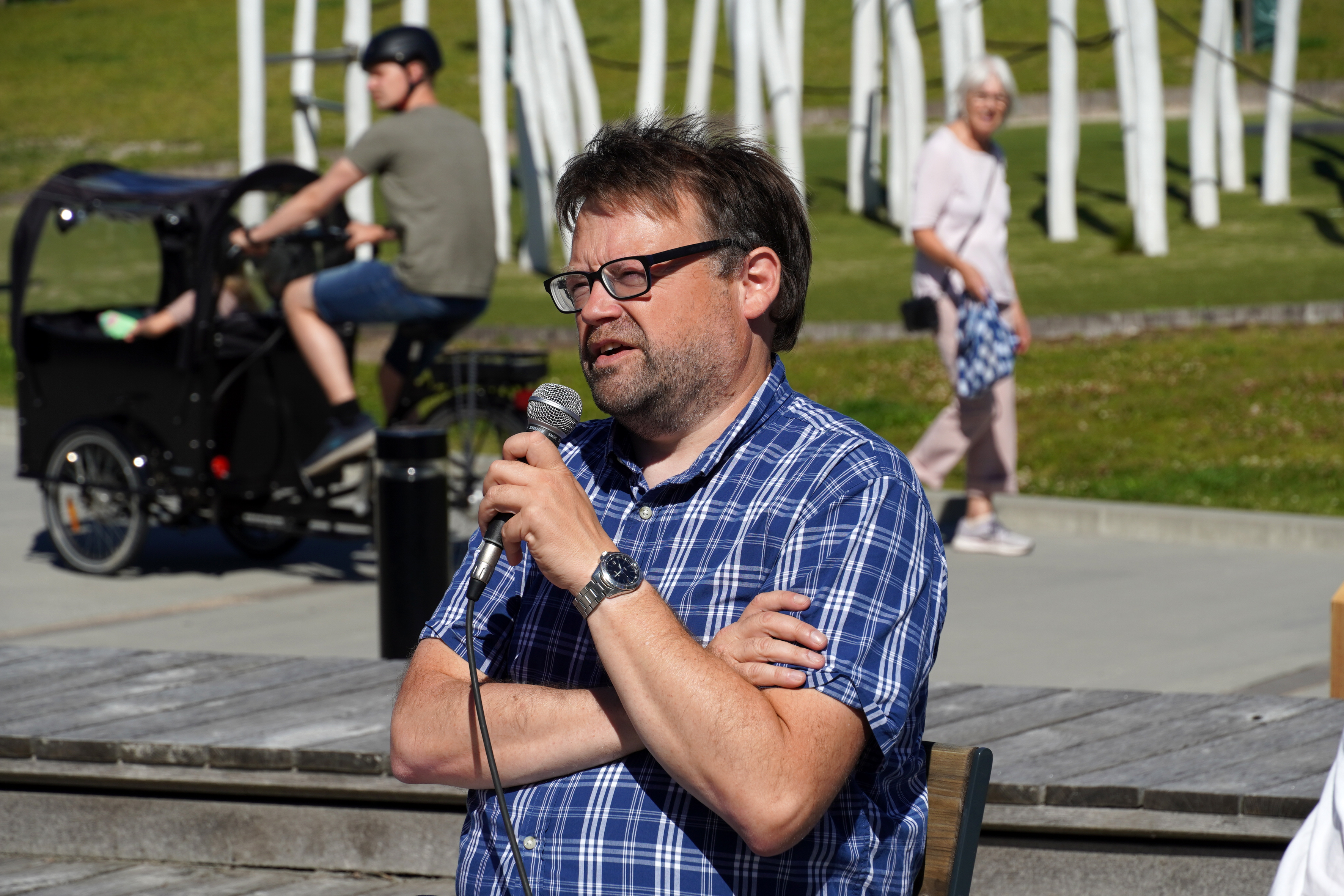 Alt Skal Væk (Everything Must Go) is a multi-layered temporary public artwork and social engagement by Hannibal Andersen. This project takes its point of departure in examining the effects of – as well as the resistance to – the commodification and financialization of housing under capitalism. By examining the history of common housing in Denmark (roughly twenty percent of the country's housing stock) as a model that arose out of necessity for affordable and decent homes, Andersen hopes to provoke a broader conversation about the spatial, social, and political implications of housing.

As one component of the project, during the month of July, Andersen will install a video work combining advertising motifs and historical images of housing resistance on the scrolling video board in the public square of John F Kennedy's Plads. Additionally, a public discussion on housing politics will take place at the cultural house Trekanten in Aalborg East – an area that has a history of social housing as a working class neighborhood, but has previously been on Denmark's controversial so-called "ghetto list". By connecting these sites, contexts, and communities, the project will seek to bring together different locales and spatial topologies of realized value as focus points for dialogue. In doing so, the project ultimately asks - how can we think of housing as a common good outside of a capitalist framework?

This project is kindly supported by The Danish Arts Foundation and Trekanten bibliotek & kulturhus.

Thursday, July 7th:
Housing Commons - Then and Now from 3:30 - 6:30 pm

Starting point: Trekanten bibliotek & kulturhus, Sebersundvej 2A, 9220 Aalborg Øst
Ending Point: Kennedy Arkaden, John F. Kennedy Plads 1, 9000 Aalborg
Program:

3:30 pm
Panel and Public Discussion
- Featuring historian Jakob Ørnbjerg, chairperson of Alabu housing organization Laila Thomsen, and activist Ibrahim El-Hassan from Almen Modstand (Common Resistance)
5:30 pm
Going from Aalborg East to John F. Kennedy Plads to view the video work
Alt Skal Væk
6:30 pm
Conclusion
(with picnic dinner in Kildeparken)


July 4th – July 29th:
Public Installation of the video work Alt Skal Væk (accessible all hours)

Video board outside Kennedy Arkaden, John F. Kennedy Plads 1, 9000 Aalborg
Note: Language of the event will be in both Danish and English. Translation and interpretation will be provided along with free snacks and drinks.

Hannibal Andersen
is a visual artist who works in the dynamic and speculative terrain where economics, politics, and ideology intersect. Andersen's work deals with themes such as (de)commodification, exploitation, branding, intellectual property, hegemony, agency, commonization and the implications of relentless privatization. As such, his practice seeks to give a glimpse into the clandestine political economic mechanisms at play in institutions of power. He captures and twists these notions to illuminate different relationships between economic entities, with ramifications on a global scale or as ubiquitous as advertisement. Andersen has exhibited, performed, and researched widely in Denmark and abroad and has a forthcoming residency at
ISCP
in New York in 2023, and a public mural installation in collaboration with
Kunsthal Charlottenborg
called
The Abstract Expression of Privatisation
which will also debut this summer in Copenhagen.